Our Hiring Process Road Map
Navigating the path to becoming a firefighter can be tough, which is why we recently hosted our first ever Renton Regional Fire Career-Con. Career-con was all about -YOU- and answering any questions that may be a barrier to applying for a career in the fire service. We met some amazing people and answered a lot of very good questions over the two days we held the event. One frequent question was simply, "Where do I start?"
The first step to applying with Renton RFA starts with taking your Public Safety Test through Public Safety Testing (www.publicsafetytesting.com). Public Safety Testing (PST) offers practice tests, and you're encouraged to give them a try prior to taking your official test, as there is a cost associated with testing. You select which agencies you wish to apply for when you test, and your test scores are automatically sent to us, if we're an agency you choose.
You should also complete your Candidate Physical Ability Test (CPAT). While your written test must be taken through PST, you can take your CPAT at any licensed testing center. It just needs to be current within 12 months of the closing date of our posting, which is 9/28/2018 during this hiring session.
That's it – take your written test (and choose us as an agency to receive your results) and make sure you have a current CPAT and you're in the running! While applying is fairly easy, with limited positions available, this is a highly competitive opening at any agency. Always give it 110%. If you're not happy with your initial scores, you can always retest.
From there, we will pull a deep list of scores, confirm who on the list meets the eligibility requirements, and invite those candidates for a brief initial interview with a panel of our members. Candidates continue to be narrowed down from there, and those chosen to move forward are invited back for additional panel interviews before selections are made.
Below is a visual aid to help you navigate our hiring process as a whole.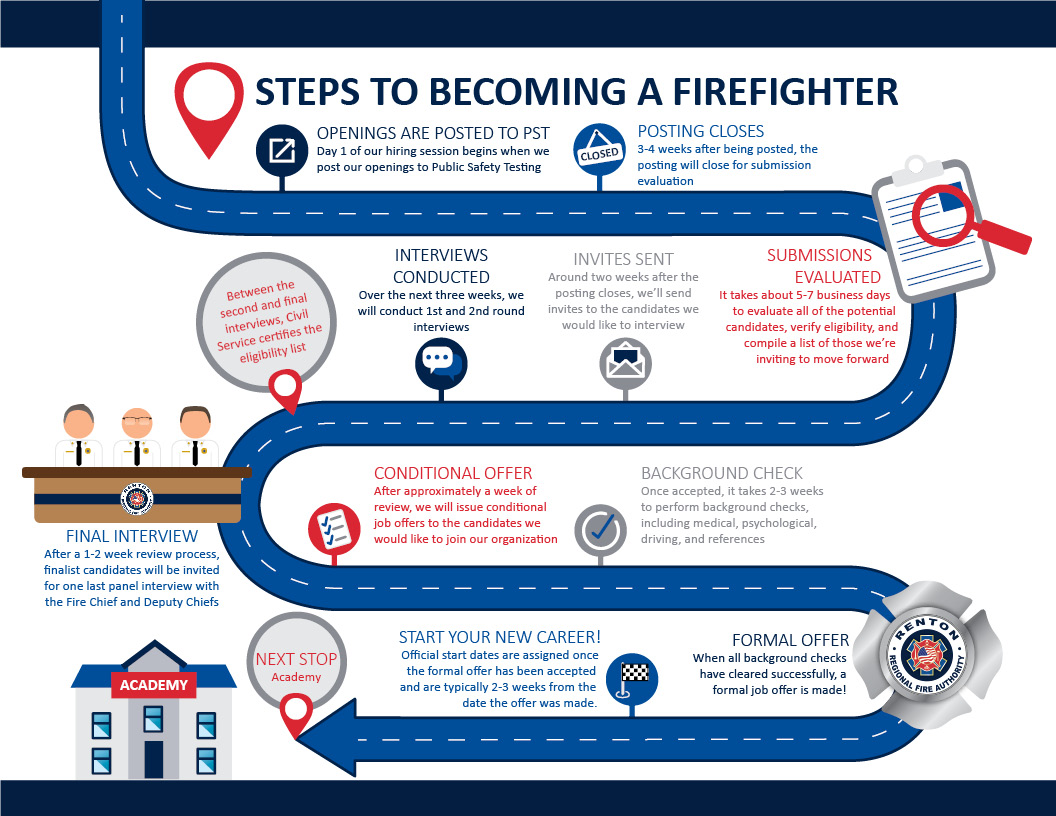 Here are a few helpful tips to take with you into the interview process:
Be punctual – Every second matters in this profession, so make sure you show us your ability to be punctual.
Dress to impress – Renton firefighters are some of the best in the country, look the part!
Relax – The formality of the hiring process is enough to make anyone tense. Remember to relax; we're all human and everyone you're meeting with has been in your shoes before.
Be yourself – You're looking for the right organization to spend your career with, just like we're looking for the right individuals to join our team. Being authentically -YOU- is important to ensuring its the right fit for everyone. And remember, we're looking for genuine people with their own unique strengths. Don't tell us what you think we want to hear, let us know what makes you unique.
Our current posting with PST will be open from 9/4 until 9/28, so be sure to apply!