Renton RFA's Office of the Fire Marshal is responsible for working with residents, businesses, and the City to issue permits relating to new and updated commercial and residential construction, special events, food trucks, and more. Permitting is an essential part of what the Office of the Fire Marshal does to ensure the health and safety of our community. It is part of the process of seeing that buildings meet the fire and life safety standards of the State of Washington and the City of Renton.
The various permits we provide can be broken up into four categories: Commercial Construction, Residential Construction, Special, and Operational. Click below for information and forms within any of these categories.
For Commercial Construction Permits, an appointment must be made in advance to submit permit applications and plans for review.  Please call the City of Renton Permit Center at 425-430-7200 to schedule intake at Renton City Hall, 1055 South Grady Way, 6th Floor.
Residential Construction Permits, Special Permits, and most Operational Permits are available over the counter without an appointment at Fire Station 14, 1900 Lind Avenue SW, Monday-Friday, 7:30 a.m. to 11:30 a.m. and 12:30 p.m. to 2:30 p.m.  Closed on holidays.
Exception:  Mobile Food Facility permit applications require making an appointment by calling 425-430-7043.
CONSTRUCTION PERMIT GUIDELINES
---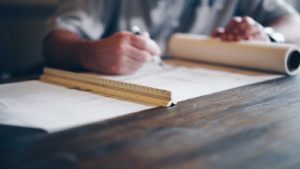 Construction permits are processed through the City of Renton Permit Center, on the 6th floor of Renton City Hall, located at 1055 South Grady Way, Renton, WA 98057. Customer service hours are Monday through Friday, 8:00 a.m. to 4:00 p.m. They can also be reached at PermitTech@rentonwa.gov or by phone at (425) 430-7200. You may also visit their website for more information at: City of Renton Permit Center
Plan review fees are required at the time of application. See the City of Renton Fee Schedule.
All new construction within the City of Renton is required to meet current fire code requirements. Redeveloped buildings are required to update fire suppression systems to meet current code as well. When it comes to commercial buildings, it is especially critical that buildings meet or exceed fire code requirements in order to provide public safety to the community. Below are the permits for commercial construction within the City of Renton: 
Like all new or renovated buildings within the City of Renton, residential buildings also must follow fire and life safety code as set forth by the State of Washington and the City. This enforcement helps keep our families, neighbors, and communities safe. Below are the permits for residential construction within the City of Renton:
Special permits are approvals given to building or land occupants that meet specific standards or conditions in accordance with local zoning. Often times, business are required to carry special permits for the benefit of the community. These permits provide local agencies with information needed to safeguard residential neighborhoods from building or land uses that would have an adverse affect on the community at large, such as increased noise, odor, traffic, or fire and life safety hazards.
Individuals and businesses wishing to pursue operations that are considered hazardous and pose a potential threat to public safety must obtain an Operational Permit before performing any hazardous operations. The permit process allows us the opportunity to inspect and asses the risk, as well as insure the operation is compliant with all fire codes. There are numerous ventures with hazardous conditions that require permitting. Below are the permits available within the City of Renton: