PUBLIC EDUCATION OVERVIEW
---
Public Education is one of the most important ways we serve our community. Through education, we empower individuals and businesses throughout the Renton community to not only avoid activities that could lead to harm, but also how to respond to emergent situations to minimize the risk of severe injury or even death. Our education topics span a wide range of fire and life safety disciplines, including: Kids, Businesses, Home, Injury Prevention, and Community Programs.
Our Public Educator works with local schools and organizations to provide meaningful, educational programs to children throughout the community. Curriculum varies and is based on topic and age, ranging from Pre-K to High School. Each program is designed to engage childrens' curiosity and reach them in a way that is both fun and impactful. Expand the sections below to learn more about our School Programs. If you have any additional questions,  give us a call at 425-276-9580. 
When it comes to Classroom Visits, our Public Educator works with you to make each visit fun and educational, no matter your students grade level. We provide meaningful fire and life safety education, as well as an introduction to firefighters' role within the community. The curriculum is based on grade and topic, ranging from Pre-K to High School. Each class is 30 to 60 minutes in length.
Schedule a Classroom Visit: We have a variety of age appropriate programs for school aged children. The standard topics we cover include:
Exit Drills in The Home
Crawl Low Under Smoke
Calling 9-1-1
Matches/Lighter Safety
Firefighters Are Our Friends
Tools or Toys
Stop! Drop! And Roll!
Poison Prevention
Scout Night
We receive tons of requests throughout the year for station tours from local scouting groups. While our commitment to the community has never been stronger, it is simply too many requests to accommodate every group individually with the time and attention they need to meet badge requirements. Enter Scout Night! Our once-a-year event for ALL scouting groups to get all the safety education, information, and badge requirements they need in one fun-filled evening!
WHAT DOES SCOUT NIGHT INCLUDE?
We work with local law enforcement, emergency management, medic agencies and more to put together a robust event designed to help scouts meet as many badge requirements as possible while having a GREAT time learning about fire and life safety! Activities include:
CPR / AED Training (no completion card)

Basic First Aid (no completion card)

Using 9-1-1

Knot Tying

Child ID Cards

SWAT Vehicle Tour

K9 Unit Introduction

Home Safety Education

Fire & Law Enforcement Equipment and Career Info

Escape Planning
THIS EVENT IS ALWAYS 100% FREE! – CHECK OUT THE MONTH OF MAY ON OUR EVENTS CALENDAR FOR EXACT DATES OF OUR NEXT EVENT!
View Our Events Calendar
Business owners have a responsibility to provide their employees and community members with a safe and healthy environment within their business. We understand that responsibility and appreciate the opportunity to provide businesses with the education and information they need to maintain a high level of safety while helping us work toward our vision of a safer, healthier, and stronger Renton community. If you have any additional questions,  give us a call at 425-276-9580.
60-Second Safety
Quick safety information to keep your employees, customers, and assets safer! Click the topics below for more info.
Additional Safety Information for Businesses
Expand the sections below by clicking the (+) sign at the end of each section.
There are lots of ways to be safer at home. From properly installing smoke alarms to establishing your family's home fire escape plan, little changes could have a life-saving impact. Click the icons below to find great information on how to improve the overall safety of your family at home! If you have any additional questions,  give us a call at 425-276-9580. 
60-Second Safety
Quick safety information to keep your home and family safer! Click the topics below for more info.
Cooking / Grilling Safety Tips
The kitchen is one of the leading places fires start in a home. Cooking and grilling safety is extremely important for this reason. Below, find several key tips of staying safe while enjoying great meals with your family!
Smoke Alarms
Smoke Alarms Save Lives. Smoke Alarms are a key part of a home fire escape plan. Working smoke alarms give you early warning you can get outside quickly and safely.
Carbon Monoxide Alarms
Carbon monoxide, or "CO", is an odorless, colorless gas that can be fatal. It is often called the "Silent Killer". CO inhibits the blood's capacity to carry oxygen and is produced when burning fuels such as gasoline, propane, natural gas, oil or wood. A carbon monoxide alarm is a device that detects carbon monoxide (CO) and produces a distinct audible alarm when CO is detected. It's a vital component to safety in any building, including your home.
Below, we answer some frequently asked questions about CO alarms. If you have a question we have not answered below, please feel free to let us know!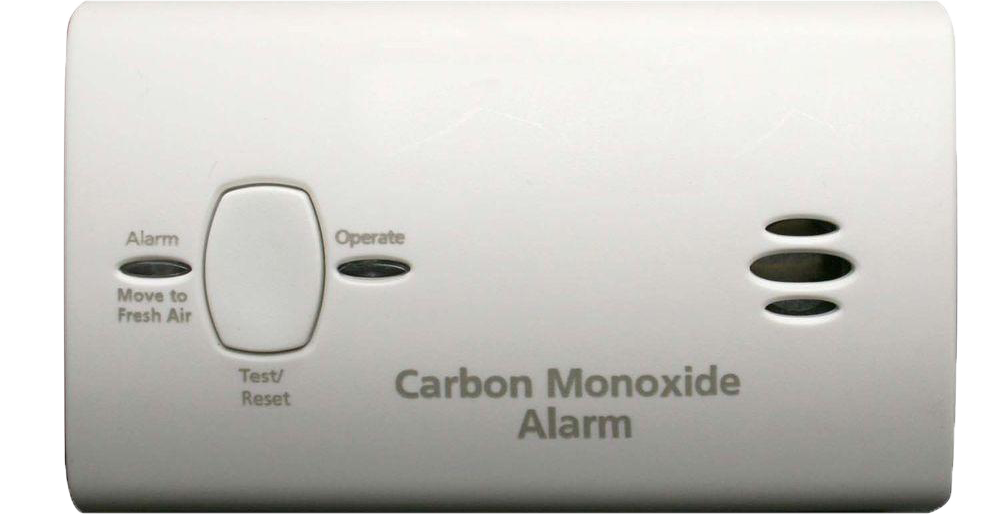 HOA Education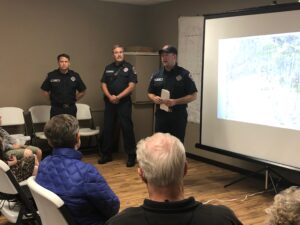 Keeping your community safe is important to you, your Home Owners Association, and our organization. That is why we offer community HOA's the opportunity to receive visits from our department to help answer critical fire and life safety questions, and educate your community members on key safety practices for the betterment of your community. These visits are free and you can make a request through our online form (here). 
Not sure if you're ready to schedule a visit? Give us a call at 425-276-9580! We're always happy to work with you to devise a way to improve health and safety throughout the community.
Emergency medical services make up nearly 80% of the calls we receive as a fire department, so you can imagine that helping people prevent injuries in the first place is a big part of our focus when it comes to public education! Below you will find some helpful information about how to help prevent certain injuries. Don't see the info you're looking for? Make a suggestion and we may add it in a future update!
If you have any additional questions,  give us a call at 425-276-9580.
If you have a bike, you should have helmet! Here in King County it is required to wear a bike helmet (regardless of age) while riding a bike. We want kids and families to ride their bike as much as possible as it offers fun and exercise. Here are some facts & tips so that you'll be safe while riding your bike…
Wearing a helmet that fits you properly increases the protection of your face, head, and brain in the event of a fall at least 45% better than without a helmet.
No. Any helmet that has been involved in a crash needs to be replaced immediately-even if there are no visible signs of damage.
Our vision as an organization is to work hard every day toward making the Renton community safer, healthier, and stronger. Reaching out to our community in new and unique ways to provide excellence in public safety education is a key part of that vision. We are constantly working with individuals, businesses, officials, and agencies to create programs that enrich the health and safety of our community. Below are examples of this commitment.
If you have any additional questions,  give us a call at 425-276-9580.
Fire Prevention Week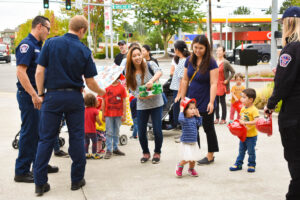 WHAT IS FIRE PREVENTION WEEK?
Fire Prevention Week marks the anniversary of the Great Chicago Fire of October 8-9, 1871. This historic fire raged for 2 days, killed more than 250 people, left 100,000 homeless, and destroyed more than 17,000 buildings. To honor the memory of those lost during this tragic incident, and to carry on the lessons learned from it, we work with local schools during this week in October to help educate students, parents, and teachers on fire safety. 
WHAT DOES FIRE PREVENTION WEEK ENTAIL?
During this time, firefighters and the public educator visit schools to conduct fire drills and inspections. Tours are also given at the stations upon request. To schedule a tour, please fill out our online Tour/Visit Request Form.
Request a Tour or Visit
Fire Stoppers Fire Prevention Program
If your child has played with or set a fire, or even simply shown an interest or curiosity about fire, they need education about fire safety. The Fire Stoppers program is a FREE, confidential, and effective intervention program for children who have displayed fire setting or fire play behavior. It engages children's interest and is informative for parents.
Using educational videos and homework assignments, participants learn: 
The dynamic of fire behavior

Taking personal responsibility for safety

Learning good decision-making skills

Match/lighter safety

Legal implications for fire use

Parental role strategies

For more information, click to download the Fire Stoppers flyer or contact our Public Educator at 425-276-9586 or sferguson@rentonrfa.org.
If you have any questions, give us a call:
425-276-9580.