THANKSGIVING SAFETY
Safety in the kitchen is always important, but especially on Thanksgiving Day when there are a lot of people and activity in the home.  View these safety tips to ensure safety is the top recipe for holiday cooking.
COOKING SAFETY
Be on alert! Stay in the kitchen when you are cooking.
Keep anything that can catch fire-oven mitts, paper towels, curtains, wooden utensils, etc. away from your stovetop.
Turn the stove burners off if you must leave the kitchen or house for any period or when going to sleep.
Never wear loose clothing or dangling sleeves while cooking.
Stay home when cooking and check your turkey often.
Turn pot handles towards the back of the stove so no one can bump them.
In case of an oven fire, turn off the oven and keep the door closed until it's cool.
Keep an eye on what you fry! Most cooking fires start when frying food.
Keep children at least three feet away from the stove.
Keep the floor clear and clean of tripping and slipping hazards.
Keep electric cords from hanging off counters where children may be enticed to reach.
Test all smoke alarms monthly by pushing the test button.
TURKEY FRYERS
Another type of common fire that can occur on Thanksgiving is outdoor turkey fryers.  It is important for those who cook their turkey fried to know the facts:
Read manufacturer's instructions.
To avoid oil spillover, do not overfill the fryer.
Never leave the fryer unattended.
Completely thaw turkey.  If the turkey is not completely thawed when placed in hot oil, it can cause a spillover that ignites the oil.
Underwriter Laboratories does not certify the safety of any outdoor turkey fryer because they lack thermostat controls and the units can easily tip over.
Turkey fryers should never be used on wooden decks, in garages or under awnings because of the potential fire problems.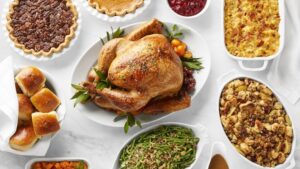 Did you know?
Thanksgiving is the leading day of the year for home fires involving cooking equipment.