Fall/Winter Fire Service Career Resources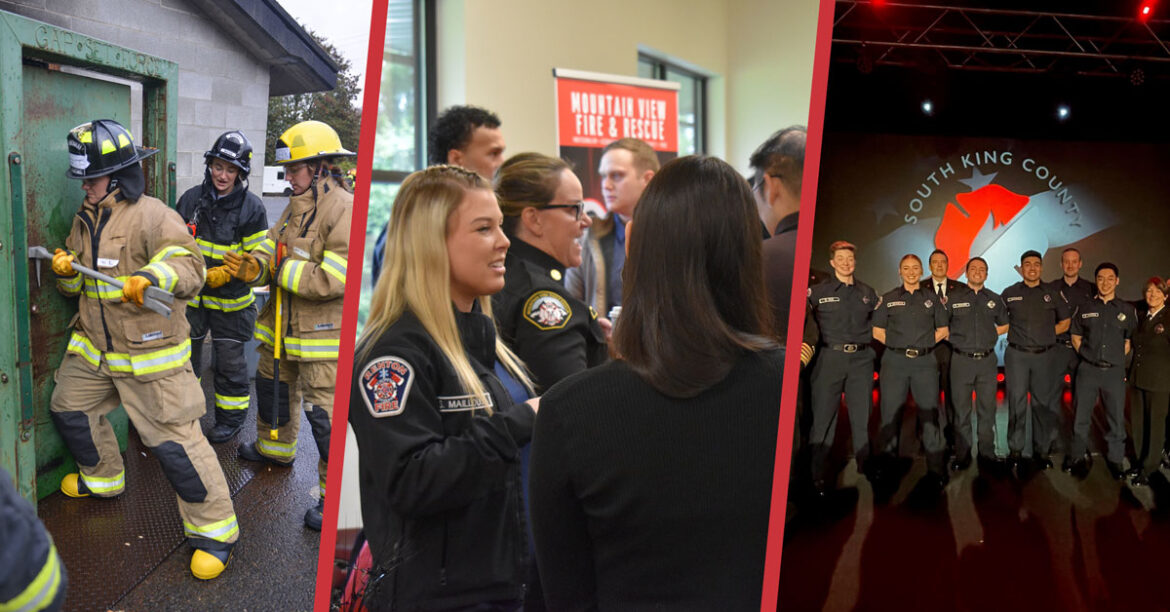 At Renton Regional Fire Authority (Renton RFA), we are committed to helping people from all walks of life see themselves in a fire service career. Not only is this career path a great way to support yourself and your family, it is also an exceptional way to give back to the community and do work every day that makes you proud.
In the coming weeks and months, there will be numerous opportunities to learn more about how to join the fire service. Below are a few of the upcoming events that you can take part in (please note that all of these events are free but some do require registration in advance):
9/23 – Mock Interview Event
Where: South King County Fire Training Consortium (Kent, WA)
Registration: https://bit.ly/KCEMSInterview2023
Description: This event is designed to help those currently testing and applying for fire service and EMS positions in King County traverse the panel interview process. It will also allow participants to network with local fire service and EMS agencies. This event is free to attend.
10/14-15 – Future Women in EMS and Fire Workshop
Where: King County Fire District 20 (Skyway, WA)
Registration: https://rentonrfa.com/fwief/ (Registration closes on 9/24)
Description: This event is designed to help women from across the region get a hands-on look at what it's like to have a fire service and/or EMS related career. This program is run entirely by female firefighters from agencies throughout the region and includes both hands-on experiences as well as discussions about the unique experience women have in these pathways. This two-day event is free.
10/14, 21, 28 – Renton RFA Open House Events
Where:
Registration: No registration required, walk-ins welcome!
Description: These events take place on the last three Saturdays in October, based on the schedule listed above. All community members (Renton and beyond) are invited to attend! Activities include meeting our firefighters, learning about different equipment and the apparatus, as well as collecting safety swag and vital public safety information. These events offer great opportunities for those looking to enter a career in the fire service to speak directly with firefighters and leadership from Renton RFA to learn more about the experience and make great connections. We will also have various hiring materials available as well.
December – KCFCA Diversity & Recruitment Workshop
Hosted By: Shoreline Fire Department
Location: TBD
Registration: TBA – Check www.kingcountyfirechiefs.org events for updates
Description: This event is designed to help people from all walks of life understand the unique process of joining the fire service. This full-day event is broken down into five unique classes that participants rotate through during the day, including classes on the topics of:
The written exam
Oral board interviews
Physical and mental wellness requirements
Medical/psych/background check process
A Day in the Life of a Firefighter
The event includes a lot of opportunity for networking with agencies from throughout the region, includes a complimentary breakfast and lunch sponsored by King County EMS, and is free for all attendees. The exact date, location, and registration are typically announced in late October or early November, so be sure to follow our social media and/or check the KCFCA Events webpage for updates.
Joining the fire service can be a confusing process for those who don't know someone already in this field. We have partnered with other local South King County agencies to create WA Fire Careers, a collaborative group designed to simplify and streamline the process of joining the fire service. We highly recommend checking out www.wafirecareers.org for a step-by-step walk through of the process of becoming a firefighter.
Additionally, when you test for the WA Fire Careers group (through National Testing Network), your exam scores are sent to all of the agencies within the WA Fire Careers group for a single test fee. Not only can you test efficiently test via National Testing Network – who offers both in-person and online testing options – but this collaborative approach also makes the exam process more affordable for applicants interested in working in South King County. WA Fire Careers agencies also collaborate throughout the hiring process. Candidate's feedback is included in a unique ranking system to help match candidates with their most-preferred agency, should they be eligible to join more than one agency within the group. Visit the WA Fire Careers website to learn more about the hiring process.
Renton RFA offers more than just competitive compensation and excellent benefits. We offer the culture and environment for you to thrive throughout your fire service career. For more insight on all of the above, check out our Join Us page to learn more about our compensation, benefits, eligibility requirements, culture, and more!
Don't Go It Alone
We strive to hire the best and brightest candidates out there. As an agency with a public protection class rating in the top 5% of the country, our team is comprised of some of the best firefighters in the industry. However, we recognize that some of the best and brightest candidates might not have the guidance and mentorship needed to find their way into the fire service, let alone our organization. We have both new and long-term firefighter mentors from all walks of life who excel at guiding the next generation of firefighter. Regardless of your background, we have someone who can relate and help be your guide through the process. If you'd like to be paired with a mentor, please don't hesitate to reach out to us. Just be sure to have patience in receiving a response, as our mentors work a shift schedule – hopefully just like you will someday!