Renton RFA Seeks Candidates for Civil Service Commission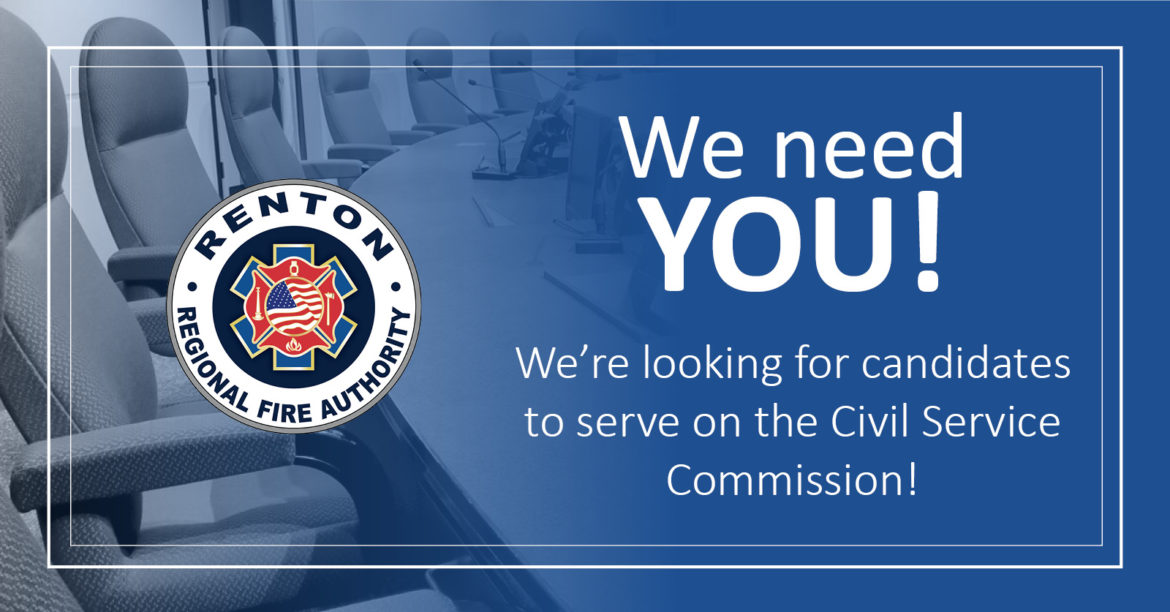 *Update 6/26/18: The window to apply for this opportunity is now closed. Thank you to all who applied. We appreciate your ongoing support!*
Renton Regional Fire Authority Seeks Candidates for Civil Service Commission
Renton, WA – Renton Regional Fire Authority is seeking candidates to serve on the Civil Service Commission. The commission organizes and enforces provisions established in the Revised Code of Washington (RCW) relating to rules, regulations, and personnel operations within Renton Regional Fire Authority.
Renton residents who represent the diverse nature of the city, including ethnicity, geography, gender, and age are encouraged to apply. Members are appointed by the Renton Regional Fire Authority Governance Board and serve a six-year term. The term will start in July, 2018.
Commission members serve without compensation and must be United States citizens who have been residents of Renton for at least three years immediately preceding their appointment. They must be registered to vote in King County and able to attend meetings on the third Tuesday of each month at 4:00 p.m. at Station 13.
To apply, please send a letter of interest to HR@rentonrfa.org.  Letters must be received by 5 p.m. on June 15, 2018.
About Renton Regional Fire Authority
Renton Regional Fire Authority serves the communities of Renton, Fire District 25, and Fire District 40. With a coverage area of 33.29 miles, Renton RFA provides fire and life safety services to 131,869 community members (2017). The Renton RFA team abides by the guiding principles of professionalism, integrity, leadership, accountability, and respect, and continually works to build an organization that reflects the unique diversity of the Renton community. To learn more, click here.