Renton RFA Awards Eve Repunte a Citizen Award
Posted on

February 14, 2018

in News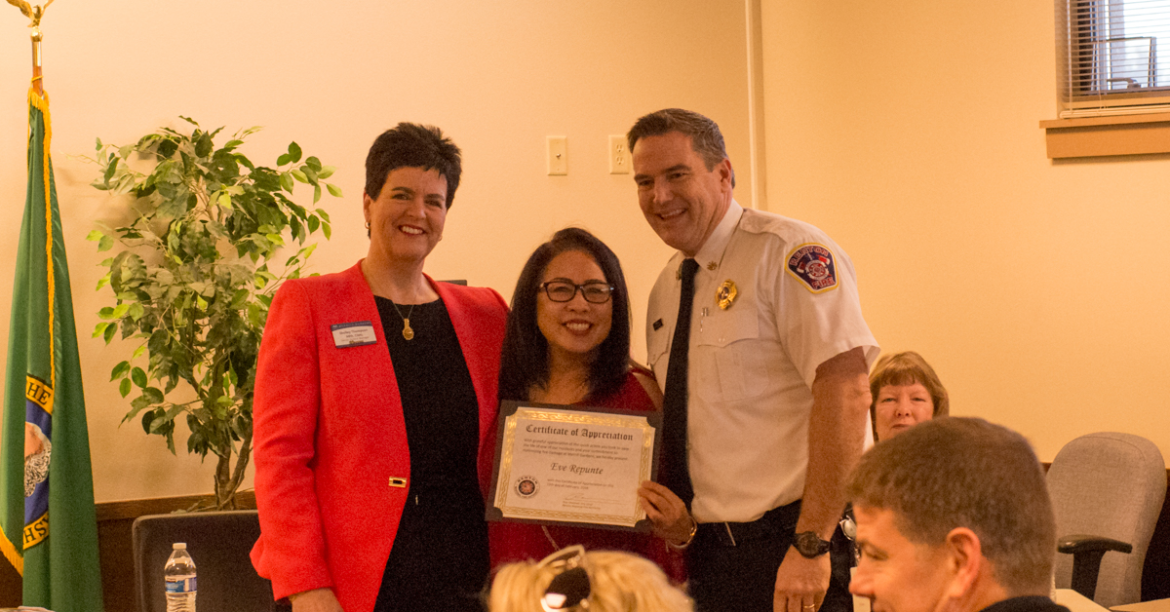 When Renton firefighters arrived on the scene at Merrill Gardens on January 16, 2018, they expected to see flames. E11 was the first crew on the scene, with L11 close behind. Dispatch reported a "Target Hazard AFA" at the senior living community after an automatic commercial fire alarm sounded. According to the fire alarm company, there was something on fire in room 417.
If there is one thing to know about Merrill Gardens, it's that they prepare their staff for just these types of situations, and their occupants are their first priority. When a fire alarm sounds, their policy is to send a trained employee, armed with a fire extinguisher, to investigate and evacuate residents if necessary. This day, Eve Repunte was charged with investigating the fire alarm.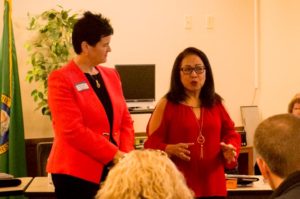 When Eve opened the door to room 417, she saw smoke and a small electrical fire coming from a wall-mounted HVAC unit. As she scanned the room for occupants, she realized the resident was walking toward the electrical fire with the intent of pouring a bowl of water on the blaze. Eve quickly jumped into action, removing the resident from danger before they could pour the water onto the HVAC unit. She then returned to the unit and proceeded to follow her fire extinguisher training to put out the fire.
Upon E11's arrival to room 417, they found the blaze was extinguished and everyone was safe. The crew proceeded to evaluate the resident and ventilate out the smoke, before turning the unit over to maintenance for repairs. Thanks to the policies supported by Supervisor Shelley Thompson, and the quick actions of Eve Repunte, what could have been an extensive removal of residents and massive property damage was reduced to minor damage in a single unit of the facility. Not only did Eve prevent further spread of the fire – her instincts to stop the resident from pouring water on the electrical heater also staved off the possibility of electrocution.
We are proud of Eve's bravery, and grateful for Shelley's support of providing staff with basic fire prevention training. These measures truly do save lives. We are honored to have opportunity to present Eve Repunte with the Citizen Award during the February 12, 2018 Governance Board meeting. It is citizens like Eve who help us move forward with our vision to make Renton safer, healthier, and stronger.