October is Fire Prevention Month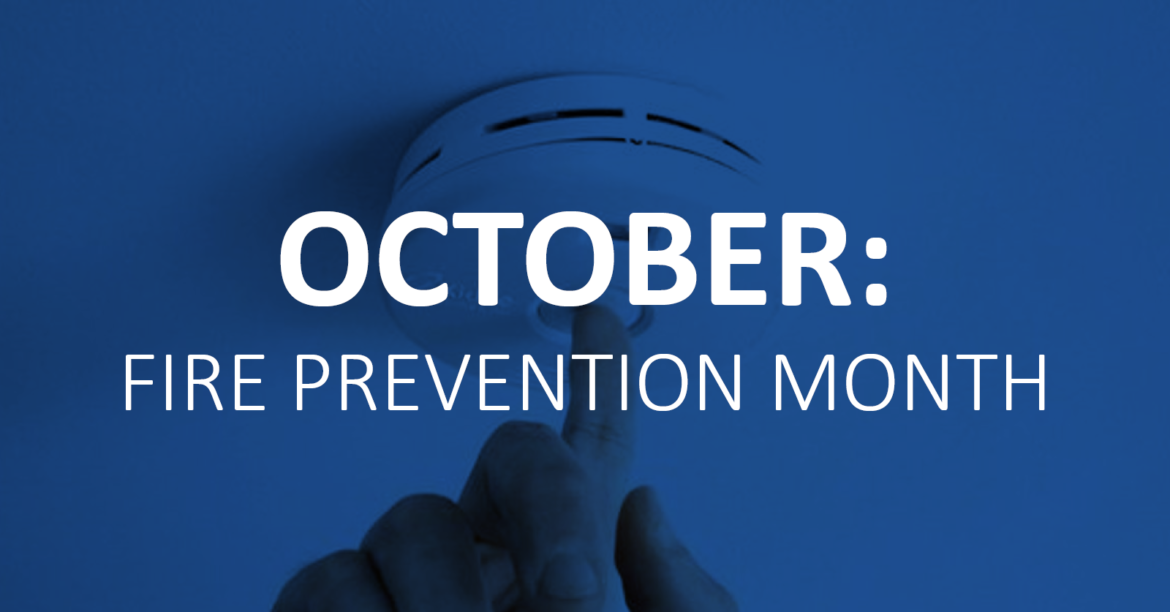 During a home fire, you may have as little as one to two minutes to escape safely from the time the smoke alarm sounds. This can mean the difference between a safe escape and tragedy. Fire safety education isn't just for school children. Teenagers, adults, and the elderly are also at risk in fires, which is why it's important for every member of your family and community to take time to understand how to stay safe in the event of a fire.  October is Fire Prevention Month. This year's campaign is "Not every hero wears a cape. Plan and Practice your Escape!" works to educate everyone about the small but important actions they can take to keep themselves and those around them safe.
 Source: NFPA
Fire Prevention: Smoke Alarms
Smoke alarms are a key part of a home fire escape plan. Smoke alarms that are properly installed and maintained play a vital role in reducing fire deaths and injuries. If there is a fire in your home, smoke spreads fast and you need smoke alarms to give you time to get out. Below are smoke alarm safety tips from the National Fire Protection Association.
A closed door may slow the spread of smoke, heat, and fire. Install smoke alarms in every sleeping room and outside each separate sleeping area. Install alarms on every level of the home. Install alarms in the basement.
Large homes may need extra smoke alarms.
Smoke alarms should be interconnected. When one sounds, they all sound.
Test all smoke alarms at least once a month. To test, press the test button to be sure the alarm is working.
Follow manufacturer's instructions for cleaning to keep smoke alarms working well.
Smoke alarms with non-replaceable 10 year batteries are designed to remain effective for up to 10 years. If the alarm chirps, warning that the battery is low, replace the entire smoke alarm right away.
Replace all smoke alarms when they are 10 years old.
Today's smoke alarms are more technologically advanced to respond to a multitude of fire conditions, yet mitigate false alarms.
A smoke alarm should be on the ceiling or high on a wall. Keep smoke alarms away from the kitchen to reduce false alarms.  They should be at least 10 ft. (3 meters) from the stove.
Don't install smoke alarms near windows, doors, or ducts where drafts might interfere with their operation.
People who are hard-of-hearing or deaf can use special alarms. These alarms have strobe lights and bed shakers.
Never paint smoke alarms. Paint, stickers, or other decorations could keep the alarms from working.
Source:  National Fire Protection Association – Smoke Alarm Safety
Carbon Monoxide Safety Information
Carbon Monoxide (CO) is often referred to as the invisible killer as it's an unseen, odorless, colorless gas created when fuels (such as gasoline, wood, coal, natural gas, propane, oil, and methane) burn incompletely. In the home, heating and cooking equipment that burn fuel can be sources of carbon monoxide.
CO Alarms should be installed in a central location outside each sleeping area and on every level of the home.
Follow the manufactures instructions for placement and mounting height.
Test CO alarms at least once a month; replace them according to the manufacturers instructions.
A generator should be used in a well-ventilated location outdoors away from windows, doors, and vent openings.
Source: National Fire Protection Association-Carbon monoxide alarms