Mystery Patch Leads to Heartwarming Memory
Our profession is very fast-paced, but every once in a while we come across something that reminds us to slow down and appreciate where we've been and those who have traveled the journey with us. We received the photo below from a traveler who snapped it while vacationing. Their note simply stated they'd come across the patch and band off the west coast of Ireland and felt like we would enjoy seeing it. They were right (many thanks)!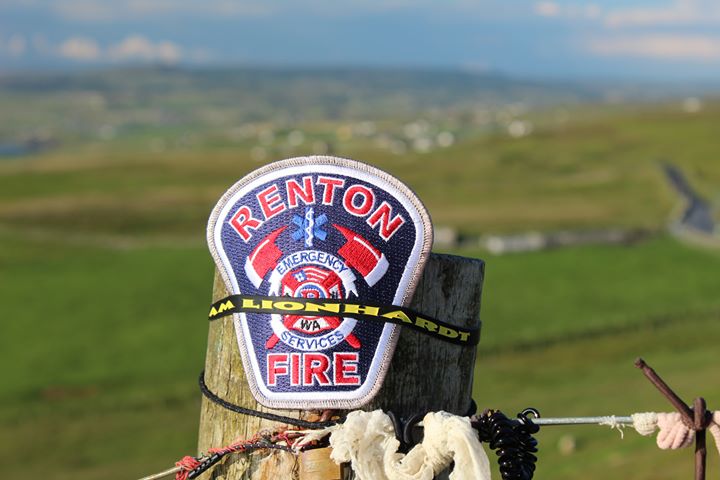 This left us intrigued. Who had left the patch and wristband there and why? While we have over 150 members, we are a fire family. Finding out who went overseas recently enough for such a pristine patch to be found was pretty easy. When we located the team member who placed it there, we asked what the significance was and if we could share that with our community. They agreed on the request of anonymity because, to them, the important message is really why they placed it there, not who placed it. So here's what they had to say:
"My wife and I were vacationing in Ireland for my 40th birthday.  We were at the Cliffs of Moher on the West Coast of Ireland and were at a viewpoint after hiking away from the crowds.  The scenery of the emerald green fields and coastline were simply amazing.  Along a fence were many hair ties and wristbands.  I asked someone at the cliffs of the significance and he told me they were there to signify the journey to this location as well as to honor the fallen.  Donovan was an avid hiker and loved the outdoors.  It seemed appropriate to leave a little something there and I had a Renton RFA patch in my backpack and was wearing a Lionhardt wristband. 
I just felt a sense of peace and tranquility while standing there and think about Donovan often in beautiful locations like this."
Donovan Eckhardt was a beloved Renton firefighter. He passed away in 2015, surrounded by family and friends he had touched throughout his years. Though he was young, he received many accolades for his contributions to the fire service. Members remember him as dedicated to serving our community and always being strong, selfless, and kind. Donovan spent much of his time supporting his fellow firefighter brothers and sisters by championing causes important to members of the fire service, including participating several times in the Scott Firefighter Stair Climb in honor of his father.
The Loinhardt organization was formed as Donovan's legacy and helps to support firefighters and their families in times of difficulty. Just like Donovan, the Lionhardt organization is near and dear to all of our hearts. Donovan's memory lives on through the love and respect our members carry for him and share; in big ways – like the Lionhardt organization – and in more subtle ways – like this gesture from our team member. Not every person within our organization today may have had the honor of knowing Donovan in person, but the benevolence of his character transcends and continues to impact us all. WE ARE LIONHARDT.
It is moments like these that give us all a reason to pause reflect. To breathe in where we have been and focus in on where we are going. And to appreciate those who accompanied us on the journey or helped pave our way. Our many thanks to the traveler who took the time to share this with us, and to the member who took the time to place it.