10 Safety Tips for Teen Drivers During Prom & Graduation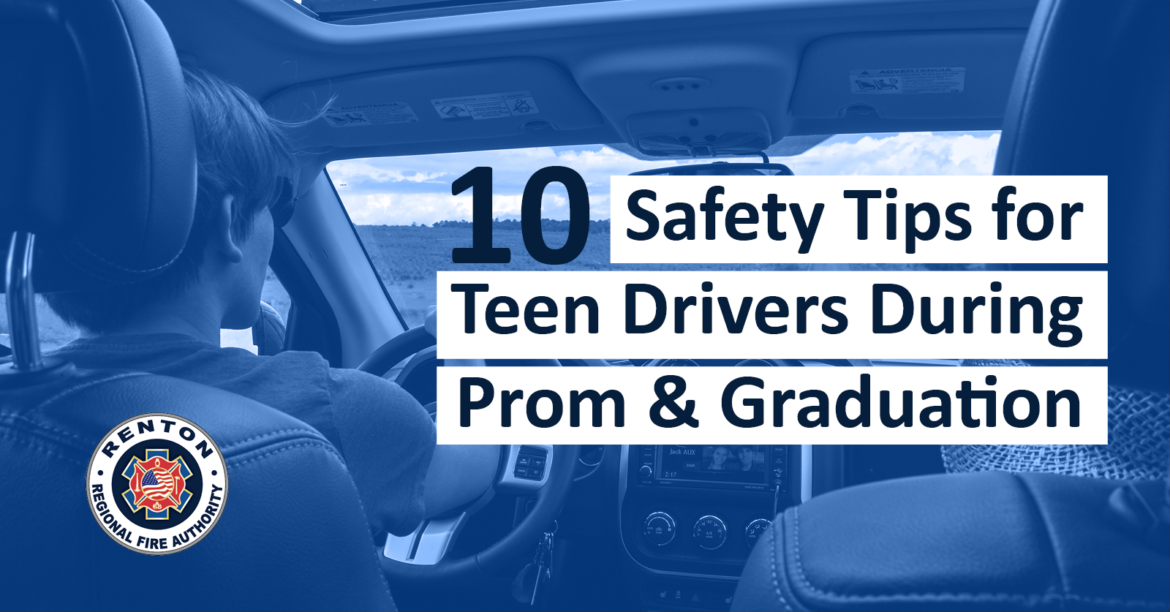 While spring is the time for students to celebrate prom and graduation, April to June has shown to be the most dangerous months for teens. Car crashes can kill more teens than at any other time of year due to an increase in celebration.  As these times of celebration near, it provides an opportunity for families to have a conversation around safety as their teenager gets behind the wheel. Below are important factors that parents and all drivers should keep in mind during this time of year.
Seatbelts are the perfect accessory! – A little wrinkle in your prom dress, tux, or graduation gown isn't worth not buckling up for. Besides being the law, seat belts have been proven to save lives and have prevented many from being seriously injured. In fatal crashes of 16-20 year olds, 60% were unbuckled at the time of the crash. A recent study by the National Highway Traffic Safety Administration (NHTSA) found that these drivers were most likely to think that seat belts were potentially harmful. Buckle up!
Hang up the phone:  The risk of talking or texting while driving is high, especially for young people. 11% of drivers under the age of 20 involved in fatal crashes were distracted. Designate a texter in your car to handle phone calls, text messages or being the navigator of the GPS. If you must use these applications-find an area to safely pull over and check messages. Code for the road-hang up the phone!
Create a driving playlist before you turn on your car: Looking for the right song or surfing through the radio to find a good song takes your attention away from the road. A study done by the NHTSA found that 80% of crashes and 65% of near-crashes involved some form of driver distraction.
Slow Down: More than half of teenage drivers involved in motor vehicle crashes were speeding at the time of the incident. Teens tend to have the need for speed due to their impulsive nature and poor judgment.  37% of male drivers between the ages of 15-20 were speeding right before their fatal crash. Follow the speed limits- they exist for everyone's safety.
Don't Drink/Do Drugs and Drive: Drinking before the age of 21 is illegal, and alcohol/driving should never mix no matter your age. Never get in the car with someone who's been drinking and have a back-up plan in place for someone you can call if your ride has been drinking. While young drivers are less likely than adults to drive after drinking, when they do, their crash risk is significantly higher due to the alcohol effects combined with their lack of driving experience.  However, progress has been made. Since 1982, the number of drivers between the ages of 16-20 who were killed from driving drunk dropped 26%.
Be Prepared:  Before you head out, especially on a long trip, pack an emergency kit in your trunk.  Items such as a flashlight, jumper cables, phone charger, and a first-aid kit are helpful to have just in case the event of an emergency.
Limit Night Driving:  Graduated driver licensing programs place limits on night driving and for good reason.  In 2010, 17% of teenagers' fatalities occurred between 9 p.m. and midnight, and 24% occurred between midnight and 6 a.m. Parents might consider limiting the extent to which their teenagers drive during late hours on the weekends.
Watch the Weather: In inclement weather, it is even more dangerous for a young driver to be on the road due to their inexperience handling the car in those situations.  Teach your child how to confidently handle weather challenges.  Consider sending the teen to a driving school to learn car control techniques in a safe environment, preparing them to manage a skid or hydroplaning incident before they are faced with such challenges alone.
Limit Passengers: The more passengers in a vehicle the higher the fatal crash risk. Place a limit on the number of friends allowed in the vehicle. With three or more passengers, the fatal crash risk is about four times higher than when a beginner drives alone. Studies also show that teens with passengers are more likely to take risks and be distracted, and when things go wrong, the tragedy is multiplied. If riding with friends, remind your friends to put their phones away and keep their eyes on the road.
Create rules: In addition to your state's graduated licensing program, set up a parent/teen contract and outline your own rules and penalties if they are broken.  Take the keys away if necessary. Parents should communicate expectations with their teenagers.
Source:  Consumer Reports