27th Annual Scott Firefighter Stairclimb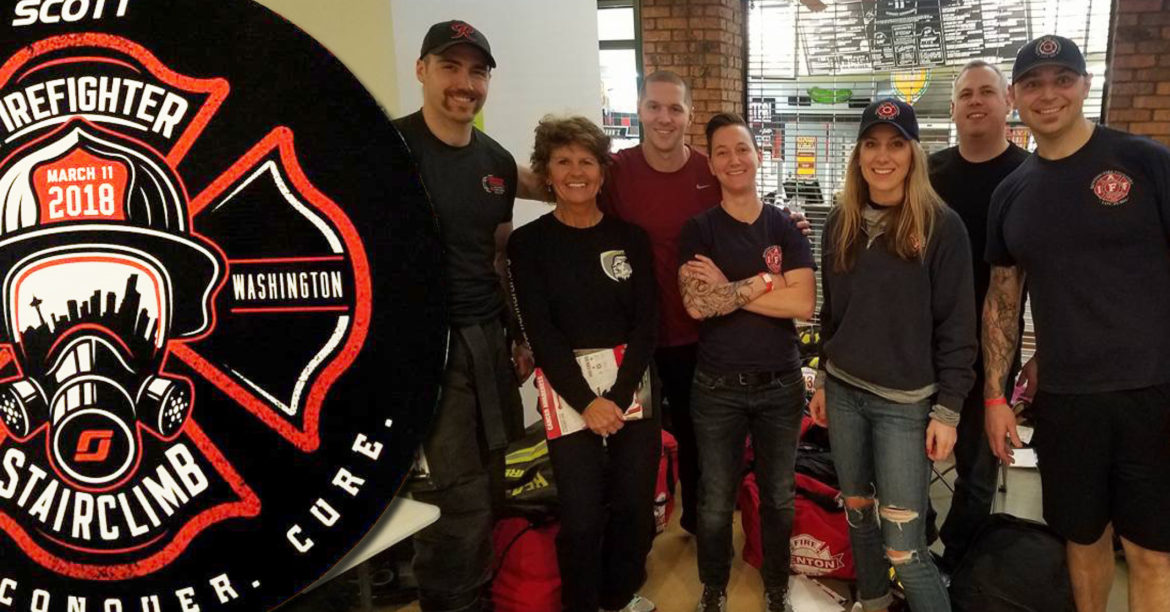 We are continually humbled by the generosity and dedication of our members and their teams of supporters. It is one thing to be an active member of an organization that is purpose-built to serve the community, but what makes our members stand apart from other organizations is their personal commitment to serving the community in their own time too. The 2018 Scott Firefighter Stairclimb was no exception.
Twelve of our members participated in the climb for a cure, and scores more from the Local 864 helped them blow their original fundraising goal out of the water by over $5,000! Their total haul for the Leukemia and Lymphoma Society event this year was $12,557.31! The Local 864 Stairclimb Team is one of only ten teams who participated in the event that have exceeded donations of $100,000 total since the inception of the stairclimb! They even received the Legacy Award from the L & L Society earlier this year for their fundraising efforts. We are incredibly proud of their hard work and the love they have for our community and this great cause.
The stairclimb event is not an easy one! Participants race up the Columbia Tower – the tallest building in the state – to scale 69 flights of stairs wearing 60lbs of firefighter gear. That's 1,356 steps and 788 feet of elevation! One of our own, Brett Newell, placed in the top 50 out of 1,855 participants from around the country, with a time of 14 minutes and 54 seconds! All of our members finished strong and made Renton very proud.
The Leukemia and Lymphoma Society was founded in 1949 and is the world's largest volunteer health organization dedicated to fighting blood cancers. Cancer is the leading cause death among firefighters, and while firefighters used to be diagnosed most often with asbestos-related cancers, leukemia, lymphoma, and myeloma are now the most frequent diagnosis. This is such an important cause to our firefighting family, and we look forward to supporting our members as they continue to amaze us at this event year after year. Way to go team!