Fire Station 15 Groundbreaking Ceremony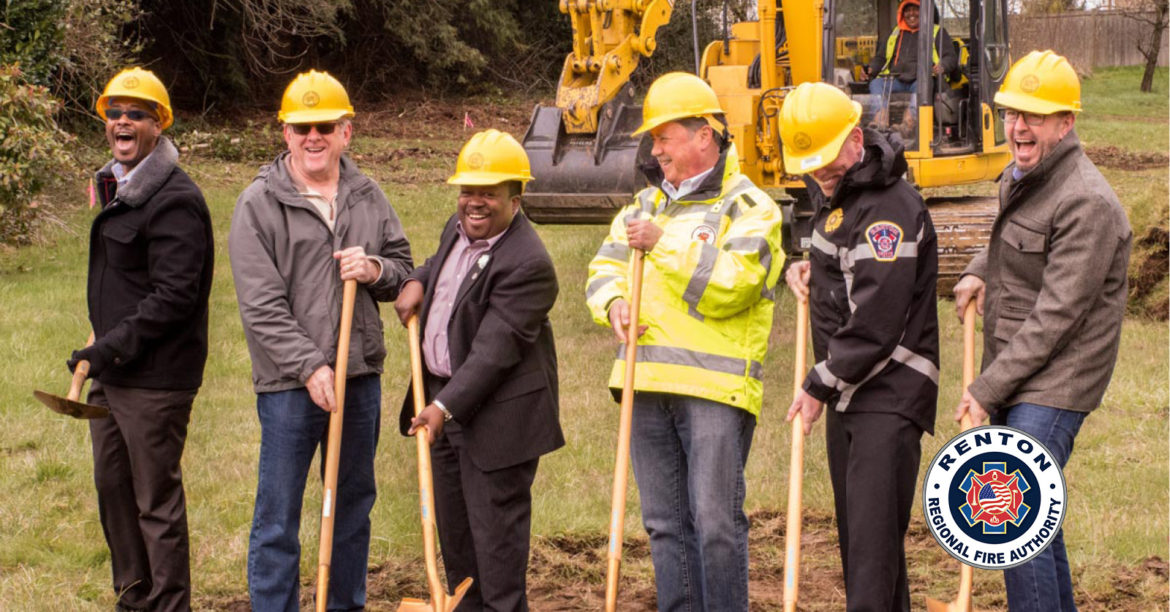 It was all smiles as members of the new Fire Station 15 project in Kennydale teamed up to break ground. The official ceremony, beautifully hosted by the City of Renton, went off without a hitch at 10:00am this morning. In the distance, the contractor had already begun clearing brush and trees from the property – not missing a beat as they enter into an expeditious building timeline. In less than a year the new fire station will be up and running, serving the residents and businesses of the Kennydale area, a project that both the city and the RFA have been looking forward to for a long time.
Speakers at today's event included Mayor, Denis Law; City of Renton Chief Administrative Officer, Jay Covington; City Council President and Renton RFA Governance Board Member, Ed Prince; and Renton RFA Fire Chief, Rick Marshall. They were joined by key members of the team responsible for the success of the project to-date to take hold of the golden shovels and kick-off the project with a scoop of fresh dirt!
Despite the chilly weather, excitement filled the air as ceremony goers braved the cold long after the shovels were set down to share their enthusiasm for this long-awaited project. It was great to see folks in attendance, such as retired Fire Chief, Mark Peterson, coming out to support the project and celebrate the day. The new station means great improvements in response time to the area – a crucial component to minimizing damage and, most importantly, saving lives. The new station will also alleviate pressure from surrounding stations – improving service throughout the greater Renton community as well.

Images of the finalized design for the new station adorned project and event signage during the ceremony, and we're excited to share it with you! Check out the image gallery below for more pictures from the event too. Stay tuned for more updates as this project progresses.