Heating Options for Tents & Canopies [Updated 11/16/2020]
With cold weather quickly approaching, we want to aid your business by outlining a few fire code compliant options for heating your tents and canopies.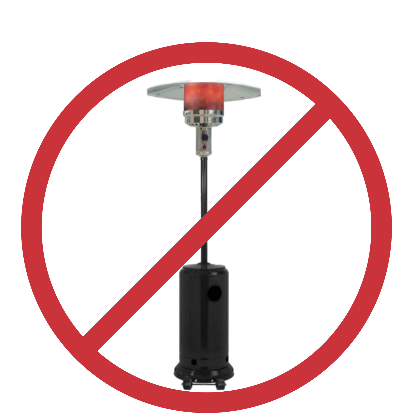 OPEN FLAME HEATING NOT ALLOWED
Portable outdoor gas-fired appliances are prohibited inside tents and membrane structures.
Open flame devices and similar arrangements are not allowed inside of or within 20 feet of tents and membrane structures.
PORTABLE SPACE HEATERS
Can be electric or propane but should be set up outside the tent. Warm air is ducted into the tent from the heating unit.
Plugged directly into an approved outlet; however, a heavy duty extension cord can be used (one cord per heating unit).
Should not be operated within 3 feet of any combustible materials.
OTHER SMALL PORTABLE HEATERS
Portable heater must have an automatic switch that shuts the unit off if it tips over on either side.
Electric heaters are permitted in the tent, ensure 18" of clearance maintained around the unit at all times.
Electric heaters must be plugged directly into a heavy gauge extension cord and plugged directly into an outlet, not a power strip cord.
FLAME RESISTANT TREATMENT/STANDARDS
It is required that tents and membrane structures be flame retardant. "Flame retardant" does not mean the material will not burn. Flame retardant treatments are not intended to protect against ignition from large open-flame devices (like a furnace or open-flame heater).
For additional assistance or information, please contact our Fire Marshal's Office at (425) 276-9580.